School News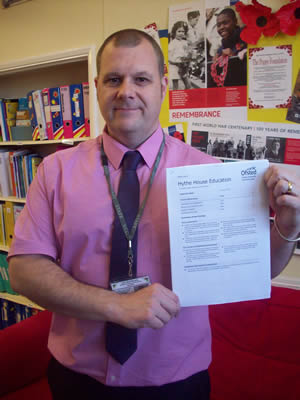 Hythe House Education has once again been rated "Good" following a recent inspection by Ofsted.
The inspector visited between the 3rd and 4th of March 2015.
The school was judged as "Good" in all four areas including behaviour and safety, leadership and management, quality of teaching, achievement of students and met all regulatory requirements.
Comments from the report:
• The behaviour of the students is good and begins to improve the day they join the school.
•Punctuality and attendance shoot up and in nearly all cases attendance is virtually 100%.
•All students make good progress in all their subjects, including in communication, reading, writing and mathematics.
•Improvements in behaviour and attitudes to learning have significant impact upon the students achievement, and ultimately on their life chances.
Head teacher Robert Duffy commented:
"I am really pleased that the staff and students at Hythe House Education continue to maintain a Good school.
For me the students happiness and progress are highly important and the school creates a positive learning environment for all our students in which they continue to achieve the best outcomes.
The framework for school inspection is now more demanding so I am delighted with the outcomes from our latest inspection report."
Our new report can be viewed HERE